RAYMOND SUBES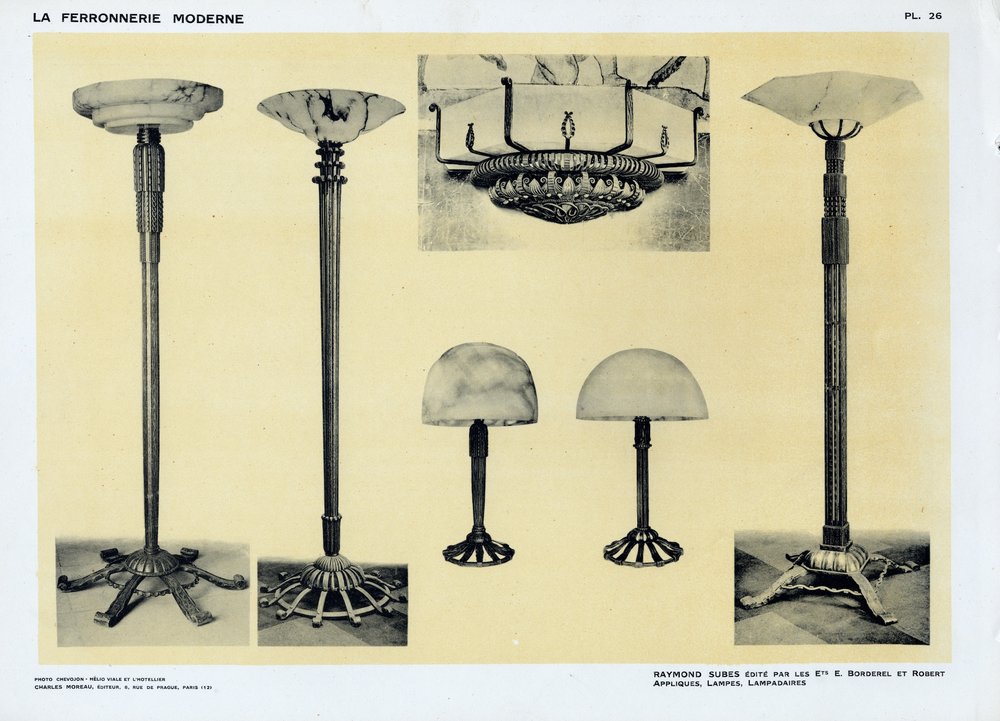 RAYMOND SUBES 

(1893-1970) 
French metalworker RAYMOND SUBES' illustrious career was focused in Paris. He studied at the Ecole Boule and Ecole des Arts Decoratifs (both in Paris). In 1916, he began his career in the atelier of renowned iron designer Emile Robert. By 1919 he had become design director of the metal atelier of Borderel and Robert, a prominent architectural construction firm. Subes quickly became a leading designer and maker of metal works. Reviews on his work in 1930 and 1935 issues of Mobilier et Decoration and Art et Decoration attest to his standing among contemporary critics. 
He first exhibited his work in 1919. At the 1925 Paris Exposition Internationale des Arts Decoratifs et Industriels Modernes his work included a console and a lacquered metal bookcase with Ruhlmann for the "Hotel du collectionneur" 
In the 1920s he produced works in wrought (hand forged) iron including the pulpit of the cathedral in Rouen, grilles for the church of Saint-Germain-desPres, lighting fixtures on the Carousel bridge in Paris, monuments and grand entryways for private commissions. Subes also received commissions for the famous French oceanliners /le-de-France (1926), Atlantique (1931), Pasteur and Normandie (1935) and ironwork for the Banque de France and National City Bank, Institute Pasteur, Caisse des Depots et 
Consignations, Musee de la France d'Outre-Mer, and Eglise du Saint-Esprit in Paris. 
In 1937, for the Paris Exposition Internationale des Arts et Techniques dans la Vie Moderne he produced the fountains for the Radio pavilion and a Madonna and child for the papal pavilion, as well as screens, consoles, and grilles for other sections.After World War II he became director of Borderel et Robert while remaining active as a metalworker. 
In 1958 he became a member of the Academle des Beaux-Arts.