JEAN-CHARLES MOREUX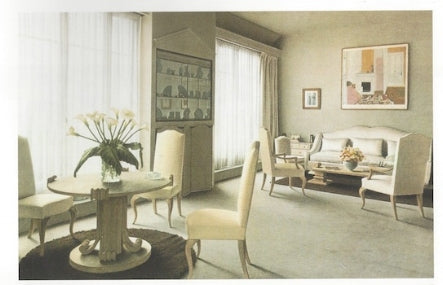 (1889-1956) 
French architect and designer Jean-Charles Moreux was born in 1889 at the Chateau de Joncy in Saone-et-Loire. He studied at l'Ecole de Beaux-Arts in Paris (1914-22) where he spent the period during World War I working on the preservation of works of art. While attending l'Ecole he became friends with the architect Jean Lurcat and his brothers, Andre and Paul Vera. 
In 1924 he exhibited his first pieces of furniture at the Salon d'Automne. He had a preference for poetic living spaces and felt that people deserved better than Corbusier's "machines for living in". He was anxious to introduce aspects of the marvelous into architecture and living spaces. His creations drew upon the classical, baroque, and rococo styles. 
Moreux's well-known clients included the Baron Robert de Rothschild and Bolette Natanson. He also designed interiors for the fashion designer Raphael, the Princess of Polignac and the novelist Colette. 
In 1935 he organized an exhibition "Art of French Gardens" to satisfy his passion for gardens. In 1936 he was commissioned to design the garden for the Square des Gobelins in Paris. In 1939 he first exhibited at the Salon des Artistes Decorateurs. He left Paris in 1940 to escape the occupation by moving to the free zone in the South of France. He returned to Paris in 1941 and redesigned the interiors for the renowned silver store, Christofle.