GILBERT POILLERAT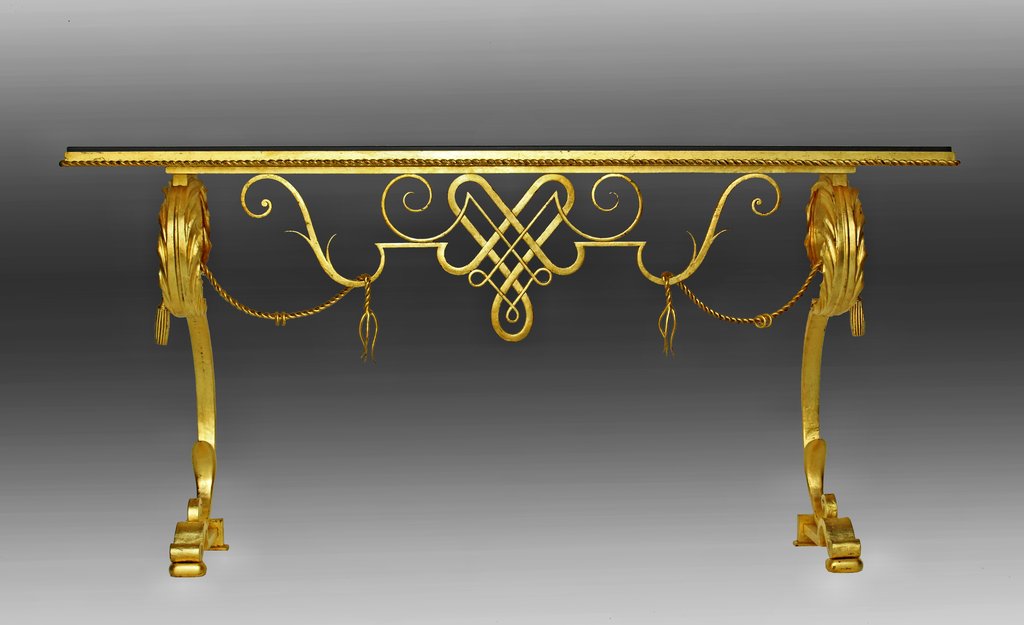 (1902-1988) 
French ironworker/designer Gilbert Poillerat is one of a handful of the most renowned metalworkers of the 20th Century. He studied engraving at the Ecole Boulle in Paris and in 1921 until 1927 worked for the world-famous Edgar Brandt in the rue Marat in Paris as a designer and crator of wrought-iron furniture and furnishings. 
In 1927 he joined the carpentry and metal construction workshop of Baudet, Donon et Roussel, in charge of its new wrought iron section. He designed and produced grillework, tables, chairs, consoles, screens, lighting and firedogs. His work was exhibited for the first time at the 1928 Salon d'Automne. Working in a variety of media from jewelry to clothing, Poillerat's metalwork was rendered in characteristic winding calligraphic forms. He designed a bronze door for the 1935 oceanliner, Normandie. His commissions included work for the Bibliotheque Nationale and the Palais de Chaillot. 
In 1946 he became a professor at the Ecole Nationale des Arts Decoratifs and set up his own workshop. Abandoning furniture and furnishings he turned to monumental wrought iron work, filling a number of commissions including thos for public and governmental buildings and the Palais de l'Elysee (the French White House). In 1957 he designed the façade ironwork of the new synagogue in Strasbourg. He often worked with another prominent French designer, Jacques Adnet.